SKYLINE SERIES
The Skyline series is a bold new take on the sliding door enclosure. We now offer three varieties:
The Skyline Series: 3/8″ glass with four rollers
The Empire Series: 3/8″ glass with four larger rollers.
The Ultimate Series: 1/2″ glass and four larger rollers
The Skyline is rapidly becoming the enclosure of choice for hotel applications.
Have It Your Way!
Because we make all our glass in-house, you're not limited to an "in the box" size. We have dozens of glass options, multiple pull options, custom etching or casting, one or two return panels, notched panels, robe hooks, and many more options. Try getting that from the competition.
Available Sizes:
48″ to 72″ wide
Standard Heights:
Any height up to 80″ tall
Glass:
3/8″ or 1/2″ Clear. Dozens of patterned and cast glass options.
SEMI FRAMELESS BYPASS
Do you need a solution for your shower that is in a tight space? We can solve this for you with our bypass shower doors. These shower doors are practical solutions for tight spaces. They will slide easily and also come with great towel bar handles. The room that you save in your bathroom with the sliding shower doors will give your bathroom that crisper feel which you are looking for.
FIXED PANEL
Why bother with the hassle of a door? Sometimes all you need is a single panel to enhance and beautify your bathroom. This panel will not only enhance the visual appeal to your bathroom, it is functional and allows for easy shower access.
INLINE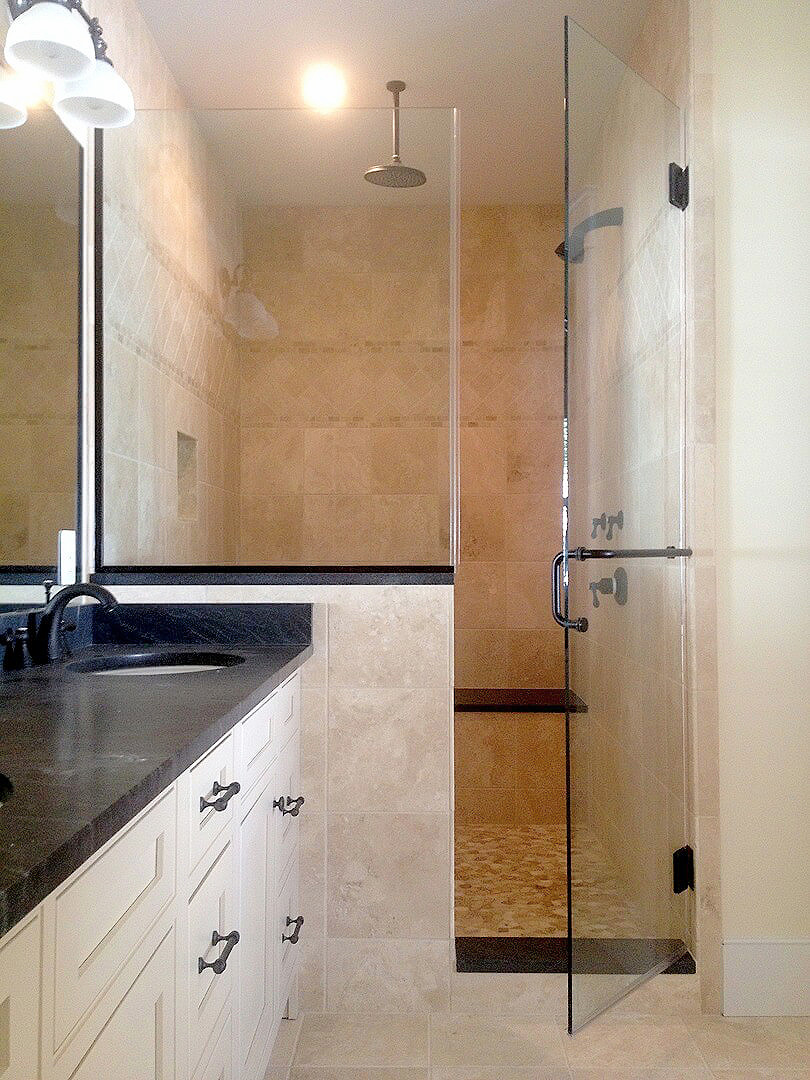 Inline frameless glass shower enclosures opens up the room visually. An inline frameless shower is comprised of a shower opening that has three walls and one "inline" opening space. Any combination of glass doors and panels used to enclose the shower space will be fixed side-by-side (or at 180 degrees).
There are many types of inline frameless glass shower enclosures. The most common is the Fixed panel and a door attached to a wall combination, especially for contractor-grade bathrooms. You can be as creative as you want with your custom made shower enclosure. Since we create your glass from start to finish in house, we have the flexibility to build your creativity.
NEO
The Neo frameless shower door complements an angular bathroom space by utilizing our state-of-the art measuring, designing and fabricating techniques. If your stylish, space-saving corner shower is in need of that final touch, our Neo frameless shower doors will brilliantly and instantly turn your bathroom into a show stopper.
By custom tailoring your angular shower, it will be transformed into a one-of-a kind centerpiece.
The neo angle design adds pizazz with a designer look and a touch of creative problem-solving for corner showers. A neo angle, or diamond-shaped, shower has three glass sides enclosing two walls. And is most often used as a stylish, space-saving corner shower. Instead of squaring off two glass panels to build out a corner shower, the neo angle design typically includes a glass door placed across from the inner corner of the shower. Then two glass panels on either side of the door return to each wall at 135 degree angle.
There are many design variations for a neo angle corner shower. The door placement can move. The door can be flanked by two smaller glass panels for support. The return panels may sit atop one or two half-walls. You tell us what you want and we can custom create it.
NINETY
Enjoy a space efficient, yet classy nineties shower door. This will consist of glass assembled at 90 degree angles. This enclosure is sure to bring the designer feel into your bathroom. Clean cut glass allows you to see the details put into your bathroom without your shower being an eyesore.
This classy look provides something for you to enjoy that has very little maintenance.
SINGLE DOOR
Many people go wrong with this type of shower door. They get the framed glass door. The frame around that glass is bulky and draws the attention from the actual beauty of the bathroom. Having a frameless single glass door for your shower enclosure will change the appearance of your bathroom from ordinary to extraordinary.
Don't fall in the trap of that framed door, go frameless. Our frameless single glass shower doors are custom made to fit the space in your bathroom. Vitralum has trained our glaziers to create perfection in your frameless glass door. This door will fit just right in the space given.